Jag har lyckas dra på mig något trist på/ kring ögonen. Ser ut lite som jag fått två rejäla smällar och känns som sandig solsveda. Förmodligen en allergisk reaktion av något slag, frågan är bara av vad? Gårdagen i ett nötskal var rätt trist så för att pigga upp mig och tänka på något annat en stund så brände jag av två filmer på en kväll. Nu är det ju i och för sig både Let´s Dance och Melodifestivalen i helgen, men skulle man önska något annant så rekomenderar jag dessa: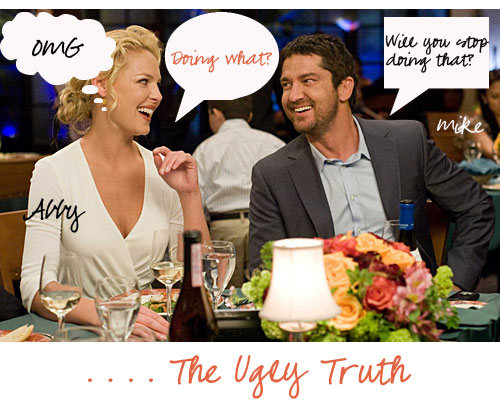 The Ugly Truth är en romantisk komedi med Katherine Heigl och Gerard Butler i huvudrollerna. Filmen har ett upplägg som känns bekant lite manligt här och lite kvinligt där. Stark kvinna som söker kärlek, en man som …. Ja, ni vet. Vi har sett det förr, men även om den är förutsägbar så är filmen sevärd tycker jag. Den har en rapp dialog och Heigil & Butler har mycket fin kemi.  Här hittar ni trailern. Jag ger den 3 stjärnor av 5 möjliga.

Management trodde jag i ärlighetens namn inte riktigt på innan vi började titta. Men både jag och maken tyckte mycket om filmen och ville ha liiite till när filmen var slut. Här finns ett manus med stort hjärta, ingen stor budget och så en lysande Jennifer Aniston som Sue.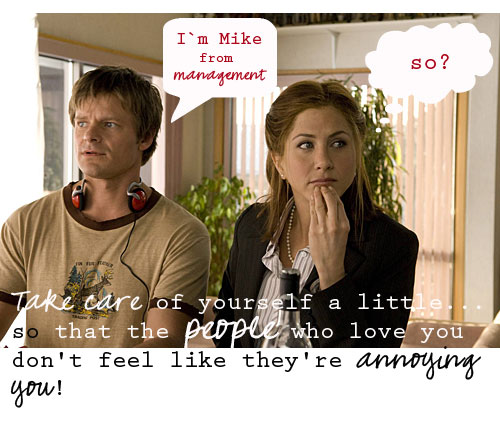 Stephen Belber som Mike, killen som är missnöjd med det mesta i livet tills han möter Sue är briljant även han. Tycker man om filmer som Lars and the real girl, Juno och Dan in real life så finns det stora chanser att man tycker mycket om även denna. Trailern hittar ni här! Vi (maken & jag) ger den 4 stjärnor av 5 möjliga.

Bilder: Egna collage med bilder från allposter.com.