På måndag är det alla hjärtans dag, en av dotterns favoritdagar fick jag reda på igår. Inte så konstigt i och för sig då hon älskar små lurviga ting och butikerna kryllar ju av sånt nu. Hon laddar även hårt genom att göra överaskningar till hela släkten. Stopp för hämlis! står det på en lapp på dörren. Själv laddar jag genom att gå igenom våra högar med dvd i jakt på något lite extra romantiskt. Vi börjar med 4 lite sorgliga: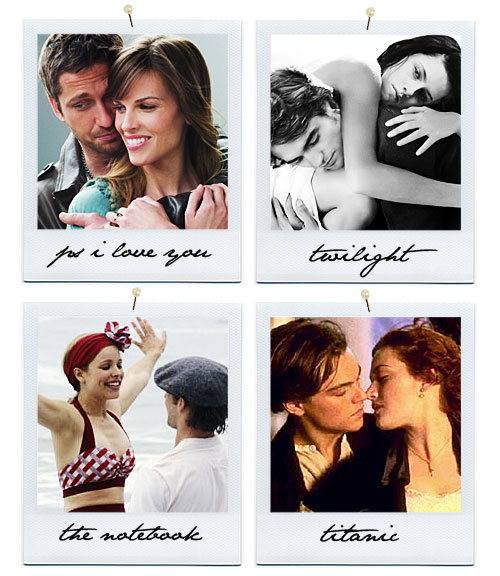 1. PS I Love You. Den är så otroligt sorglig men samtidigt så fin. Man ska aldrig sluta tro. 2. Twilight. Den första filmen och även den bästa enligt mig. Kärleken mellan de unga tu känns magisk! 3. The Notebook. Tål många tittningar. Aj, så jobbig den är bitvis. 4. Titanic. Jag minns inte när jag såg denna senast, men när jag såg den på bio. Året den kom, då grät jag så mycket att min kompis vägrade gå med mig på bio ett tag ;). När vi torkat tårarna så följer 4 lite lättsammare:
1. Valentines Day. Känns klockren just nu. Fin är den också. 2. How to lose a guy in 10 days. När den kom var jag lyrisk! Såg den om och om igen. Nu var det några år sedan sist. 3. Eat pray love. Jag blev lite besviken första gången jag såg den. Boken är ju så mycket mer. Men när jag såg den andra gången gillade jag den faktiskt. 4 . 50 First Dates. Bara kort & gott illsöt!
Fler filmer med kärleksfulla budskap hittar Du här! Se en , två eller hela högen. Feel the love :).Idag är sista dagen att tävla om iPADocken. Missa inte!