Jag blir fortfarande lycklig i magen av alla grafiska tryck med uppmuntrande texter vi har här hemma på väggarna. Och då och då får jag frågor på var man kan beställa dessa så jag har knåpat ihop en liten lista: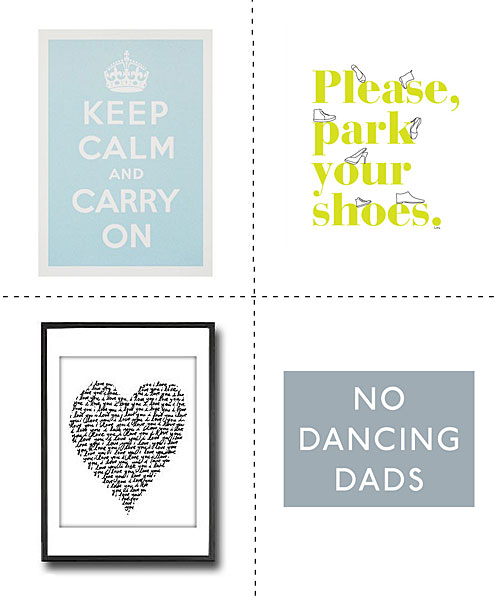 Keep Calm and Carry On trycket som lever kvar från 2:a världskriget och finns i en mängd utföranden och färger. Vi har trycket i rött och köpte det från Keep Calm Gallery för något år sedan. Nu finns dock en del av Keep Calm:s utbud att beställa hos Favoritsaker.se. Närmare ger mindre frakt, Det gillar vi! Isa hon kan hon! Nya trycket, Please park your shoes skulle passa bra i vår hall. Snyggt! Mitt absoluta favorit Isatryck är dock denna. Jag tittar på den och småler igenkännane varje morgon :). The Love Shop på Etsy gör grafiska tryck som alla tilltalar mig. Många av våra tryck kommer just här ifrån. Nyheten I LOVE YOU som från början var handskriven gillar jag mycket. Mitt senaste inköpta tryck är detta tryck från Rockett St George, No Dancing Dads! Försök gå förbi den utan att smila :).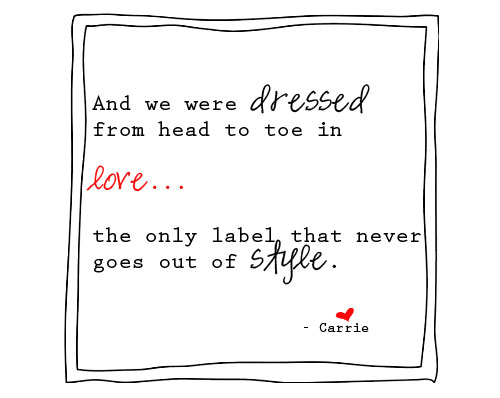 Om det bara är texten man är ute efter så kan man lätt fixa ihop egna tavlor. Detta citat skulle till exempel passa perfekt i en walk in. Bara att leka med text, bakgrund & färger. Jag ska jobba vidare på min, tanken är att den ska sitta i min minimala walk in när den är klar.Bild: Eget collage med bilder från ovan länkade företag. Citatet hittades här!